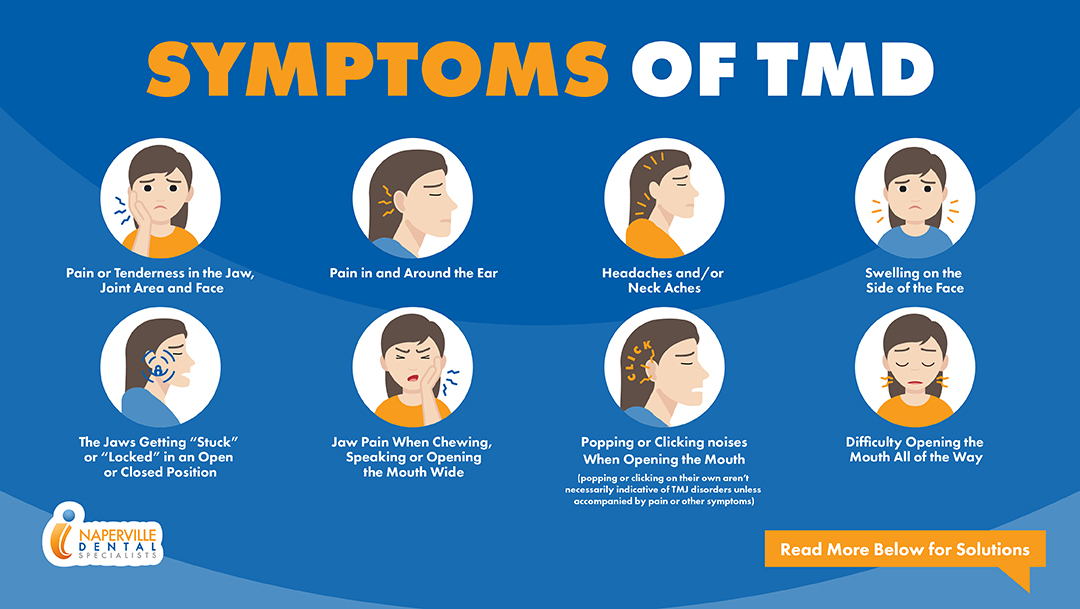 What is TMJ Exactly and What Are TMD Treatment Options?
Our Naperville prosthodontist, Dr. Anthony LaVacca, received the following question, which we're sharing with permission:
"My sister has been diagnosed with TMJ. I want to help her research this, and determine what her treatment options are. What exactly is it?" 

– Michael
In this post, we'll be answering Michael's question and discussing what TMJ is, the symptoms and causes of TMJ disorders, how to find relief, and the different TMD treatment options. 
What is TMJ?
While people commonly call issues with the jaw "TMJ." TMJ actually stands for temporomandibular joint and refers to the joint itself. Problems with the temporomandibular joint, or TMJ, are technically called temporomandibular joint disorders or temporomandibular disorders, often shortened to TMJ disorders, TMD or TMJD. We know, it's a whole lot of acronyms! 
Before we dive into TMJ disorders, first, let's talk about the temporomandibular joint. There is one TMJ on either side of the head connecting the jaws to the temporal bones in your skull. The joints allow you to move your jaw side to side and up and down. When you yawn, chew, talk, or open and close your mouth, your TMJ is hard at work. 

What are TMJ Disorders?
Temporomandibular joint disorders, or TMJ disorders, are a group of conditions that result in dysfunction and pain in the jaw joint and/or muscles that control the movement of your jaw. Since the TMJ is a complex joint, problems with it can also be complex, potentially involving not just the joints and muscles, but also the tendons, teeth, ligaments and nerves. 
According to the National Institute of Dental and Craniofacial Research, TMJ disorders fall into three main categories:
myofascial pain (pain in the muscles related to jaw function)

dysfunction or pain in the joint itself (i.e., displaced joint, injured condyle, dislocated jaw, etc.)

arthritis in the joint
A patient could have a TMJ problem that fits into one of the above categories, or even all three. 
What are the TMJD/TMD Symptoms?
TMD symptoms may include:
Pain or tenderness in the jaw, joint area and face

Pain in and around the ear

Headaches and/or neck aches

Popping or clicking noises when opening the mouth (

popping or clicking on their own aren't necessarily indicative of TMJ disorders unless accompanied by pain or other symptoms

)

Jaw pain when chewing, speaking or opening the mouth wide

Difficulty opening the mouth all of the way

The jaws getting "stuck" or "locked" in an open or closed position

Swelling on the side of the face
TMJ disorders can also cause toothaches (in multiple teeth), ringing in the ears, called tinnitus, dizziness and other symptoms. TMJ disorders are more common in women than men, leading some experts to think they might be linked to female hormones. 
What are the Causes of TMJ Disorders?
While pinpointing the exact cause of a TMJ disorder can be difficult, many times it's related to:
A misaligned bite (the upper and lower teeth not coming together properly)

Arthritis in the temporomandibular joint

Trauma to the jaw and joint, such as a blow to the face

Grinding or

clenching the teeth

(bruxism), which can put undue pressure on the joint

Stress that causes you to tighten your facial muscles or clench your teeth
How to Achieve TMJ Pain Relief at Home?
TMJ pain can range from mild to severe and it can be temporary or chronic. At Naperville Dental Specialists, we typically recommend trying TMJD home remedies first. If you're not able to get TMJ pain relief, then conservative measures are your next option. Permanent treatments, such as TMJ surgery, should always be the last resort. 
Try the following TMJD home remedies on their own or in conjunction with professional TMD treatment options to alleviate discomfort and encourage mobility in the joint:
Eat soft foods.

During an episode of TMJ pain, avoid foods that are difficult to chew and that involve opening your mouth wide to bite into them. Instead, opt for soft foods, such as yogurt, scrambled eggs, mashed potatoes, soft-cooked fish, bananas, applesauce, steamed vegetables, oatmeal, protein shakes and smoothies until your discomfort subsides. When you do go back to your regular diet, try to chew with both sides of your mouth.

Use moist heat or ice.

If you're experiencing a muscle spasm, muscle pain or your jaw feels locked, hold a washcloth that has been moistened with warm water or a warm compress on the outside of your face in the area of the joint for 10-15 minutes several times a day. This will help loosen the muscles and boost blood flow. 
If you're experiencing facial swelling, a cold pack will reduce swelling and pain. For a DIY option, cover a bag of frozen vegetables or ziploc baggie of ice with a thin towel or cloth. Hold the cold pack against your face for 10-15 minutes, repeating as needed throughout the day. 
Give your jaws a break!

Avoid chewing gum, extreme jaw movements (i.e., big yawns, yelling, singing, etc.), and chewing on your fingernails, ice or other objects. 

Take an over-the-counter pain reliever.

Non-steroidal anti-inflammatory drugs like ibuprofen can help with pain and swelling. For more severe TMJ pain, your doctor may prescribe stronger NSAIDs, muscle relaxants, or, in some cases, certain antidepressants. 

Practice good posture.

Try to hold your head in a neutral position with your ears in line with your shoulders and, if you work at a desk, keep ergonomics in mind. 

Manage stress.

Stress can make you clench your jaw and tighten your facial muscles, which may cause or exacerbate TMJ disorders. Try different stress-reduction methods, such as deep breathing or guided meditation, until you find one that works for you. If you can't seem to manage your stress and worry, consider scheduling an appointment with a therapist or counselor. 

Keep your upper and lower teeth slightly apart.

To prevent clenching, which will worsen your TMJ pain, when at rest, try to keep your upper and lower teeth slightly apart. This will take pressure off your jaw and allow your temporomandibular joints to rest and heal. If you need to, stick your tongue between your teeth. 

Do gentle TMJ stretching and strengthening exercises once your pain improves.

When you're no longer feeling major discomfort, certain TMJ exercises can encourage mobility in the joint and strengthen the chewing muscles to prevent TMD symptoms from returning. The American Academy of Family Physicians has a list of

TMJ exercises

you may want to try. 
What are the TMD Treatment Options?
For moderate to severe TMJ disorders that don't improve on their own, professional TMD treatment could be necessary. TMJD treatment options may include:
Custom oral appliances

– Custom

nightguards

or TMJ splints are a great way to get TMJ pain relief without medication or surgery. These appliances are made for you by your Naperville dentist. Nightguards reduce the impact from clenching or grinding the teeth, which wards off damage to the teeth and jaw and reduces compression of your TMJ. A TMJ splint holds the jaw in a stable position and takes pressure off the joints so they can heal. 

TMJ devices

– At Naperville Dental Specialists, another TMJ treatment we offer is the TMJ NextGeneration device. This FDA-cleared device is custom-made to fit comfortably and discreetly in the ear canal. It supports the temporomandibular joints and reduces TMJ pain, while also increasing your awareness of teeth grinding, clenching and other para-functional behavior. 

Physical therapy

– Depending on the underlying cause of your TMJ disorder, physical therapy can be effective for strengthening the muscles that control jaw movement, increasing mobility and controlling discomfort and swelling. Your dentist or doctor can refer you to a physical therapist who will show you different stretching and strengthening exercises. They might also use massage techniques, myofascial release, moist heat and ice, ultrasound and other methods to help with pain and prevent future occurrences. 

Injections

– Sometimes, TMJ disorders respond to injections, including corticosteroid injections to reduce inflammation, trigger point injections to release muscle spasms, or Botox® injections to temporarily relax the chewing muscles and prevent them from contracting. 

Orthodontic treatment

– When a temporomandibular joint disorder is due to a bite imbalance, treatment with

braces

or

Invisalign

® may be recommended to align the teeth and jaws. When the teeth are moved, the TMJ and surrounding structures will also be repositioned. Before treating TMJ disorders with orthodontic treatment, however, we have to make sure any tooth movements will improve the position of the TMJ and help with pain and not make things worse. 

Restorative dental work

– In certain instances, if the way the upper and lower teeth meet is putting pressure on the TMJ and leading to pain, your Naperville

cosmetic dentist

can use

dental crowns

, bridges or, in the case of missing teeth,

dental implants

, to fix your bite problem and balance the biting surfaces of the teeth. This, in turn, will help with healing. 

Alternative medicine

– Biofeedback, a technique that involves using electrical sensors to alert you to muscle tightening and jaw clenching, has become a popular TMD treatment option. The technique helps you to notice your internal cues so you can relax and prevent pain. Other alternative options that some patients swear by are acupuncture and radio wave therapy. 

TMJ surgery

– If all of the other TMD treatments fail, surgery is an option. Since surgery is permanent and the different procedures have varying levels of effectiveness, this should be a last option.
What Type of Doctor Treats TMJ Disorders?
Although no one can technically be referred to as a TMJ specialist or TMJ dentist since it's not a recognized specialty, Dr. LaVacca is an American board-certified prosthodontist. Prosthodontists have the experience that makes them well suited to helping patients with TMJ disorders. 
After completing dental school, a prosthodontist like Dr. LaVacca completes at least three additional years of advanced training and education in a post-graduate program. While there, they learn the intricacies of diagnosing, preventing and treating dental and facial problems, including TMJ disorders. 
Key Takeaways
The acronym TMJ stands for temporomandibular joint and refers to the joint itself. Problems with the temporomandibular joint are technically known as temporomandibular joint disorders or temporomandibular disorders, often shortened to TMJ disorders, TMJD or TMD. 

The TMJ is a complex joint and it can be difficult to pinpoint the underlying cause of TMJD, but arthritis, a bite imbalance, bruxism and trauma to the joint are among the common culprits. 

While there isn't a recognized TMJ specialist designation, an American board-certified prosthodontist like Dr. LaVacca has the expertise and knowledge to diagnose and treat TMJ disorders. 

TMD treatment options can range from home remedies to TMJ appliances to surgery. Conservative treatments should always be considered first and surgical intervention should be the last resort. 
Schedule a Consultation With Our Naperville TMJ Expert
If you're suffering from TMJ pain and unable to get relief, schedule a visit with Dr. LaVacca today. Dr. LaVacca and our team will use cutting-edge diagnostic technology to determine the underlying cause of your pain and then create a personalized TMJ treatment plan.