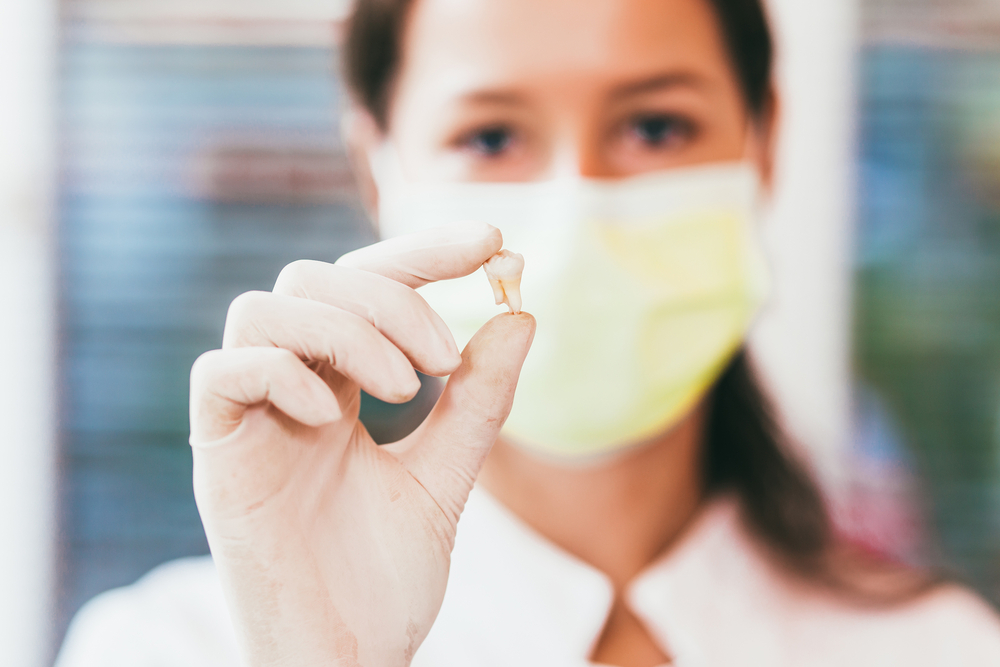 While our Naperville dentists always try to save a patient's natural tooth, sometimes, due to severe decay, damage or periodontal disease, a tooth extraction is unavoidable. The good news is, we use cutting-edge technology and techniques to make removing a tooth as quick and painless as possible. We also offer a full range of tooth replacement options, including dental bridges and dental implants. 
The team at Naperville Dental Specialists will walk you through exactly what to expect during and after a tooth extraction, but we know having answers in advance can make you feel more relaxed and confident. That's why, in this post, we'll be taking an in-depth look at the tooth extraction healing process. 
What Happens During a Tooth Extraction?
When we perform a tooth extraction at our Naperville practice, we numb the tooth and the surrounding area with a local anesthetic. If you're feeling anxious or you're undergoing a surgical extraction, such as for impacted wisdom teeth, we can also administer sedation to ensure you're completely at ease. 
Once you're numb and/or sedated, your dentist or oral surgeon will use a special tool to rock the tooth and widen the socket. They'll then ease the tooth out. In some cases, they may need to section the tooth, which means breaking it into smaller pieces for easier removal. You won't feel any pain during a tooth extraction, just a little bit of pressure.
After extracting the tooth, the doctor will clean the area. If you're planning on getting a dental implant, if necessary, at this point, we can place bone grafting material into the empty socket to ensure there is adequate bone to support the implant. We may or may not close the site with a few sutures, depending on which tooth was removed. 
How Long Does a Tooth Extraction Take to Heal?
Every patient is unique and some people heal more quickly than others. However, while it does depend on your natural biology and the complexity of your case, in general, the tooth extraction healing stages are as follows:
For the first 24 hours after your tooth extraction, you may experience swelling, bleeding and some discomfort. This is all totally normal. A blood clot will start to form, which is necessary to stop the bleeding. About 24 hours post-extraction, swelling should peak and then begin to subside. 
Your body will do the majority of its healing in the first two days after the procedure. You'll want to follow our post-op instructions carefully and get plenty of rest. You may still have soreness at the extraction site and a small amount of bleeding. Once the clot forms, it will start to transform into granulation tissue, a mixture of white blood cells, blood vessels and collagen. The granulation tissue helps prevent infection and fills in the hole left behind from the extraction. 
About three days post-procedure, swelling should be minimal and bleeding should have stopped. The area may be a little tender. The empty tooth socket will be on its way to healing, however, you'll want to continue following your after-care instructions to help keep the clot in place. By 72 hours post-extraction, you might notice that the hole is starting to close. 
7 to 10 Days Post-Extraction
Between seven and 10 days after the extraction, the opening where your tooth was should be closed, or at least very close to it, and a new layer of gum tissue will have begun to form. If we used dissolvable stitches, they'll start to disappear. You shouldn't have swelling, bleeding or pain at this stage of the healing process. 
3-4+ Weeks Post-Extraction
Three to four weeks after the tooth extraction, the extraction hole will be closed, though you may still have an indentation for a few more weeks. 
For a surgical extraction of an impacted wisdom tooth, the jawbone will have to heal as well, which can take several months. While this might sound like a long healing period, the truth is, most patients feel "back to normal" within a few days, but it takes more time for the bone tissue in the jaw to regenerate.
What Should a Tooth Extraction Look Like When Healing?
During the first 24 hours after a tooth extraction, you'll see a hole where the tooth once was. This empty socket will look deep red and a blood clot will form that reaches to about the level of the gumline. The tissue around the socket might appear whitish in color due to trauma. 
After two to three days, the hole will look smaller and you'll notice new gum tissue has started to form around the edges. Around this time, we sometimes get calls from patients concerned about white stuff during their tooth extraction healing. As long as you're not experiencing severe pain, the white stuff inside of the tooth socket is likely granulation tissue and not a sign of infection. 
As we said, granulation tissue is made up of collagen, blood vessels and white blood cells. It looks creamy white and typically develops two to three days after the extraction once the clot has formed. It helps protect the clot and cover the wound. 
By one to two weeks after the tooth extraction, a normal socket will be pink in color instead of dark red. Most of the gum tissue will have healed and the socket will look nearly closed. For larger teeth, such as molars or wisdom teeth, healing can take a bit longer. At the two-week mark, you might still notice a pretty visible indentation. 
Animated-Teeth has a guide with pictures of what a tooth extraction should look like when healing. Though your extraction site may look slightly different, seeing the visuals can be helpful and give you a basic idea of what's normal and what's not. 
How Long Does Pain Last After a Tooth Extraction?
Now for the million dollar question: How long does pain last after a tooth extraction? It varies depending on your body and the tooth that was extracted. For a simple extraction, such as the removal of an incisor or a baby tooth, pain lasts, on average, one to three days. 
Pain after a tooth extraction can last longer for teeth with deep roots or those that were surgically extracted. In these cases, discomfort can continue for about a week, with some patients noticing an increase in pain around day five and then a gradual decrease.
If you're still experiencing tooth extraction pain after seven days, it's a good idea to check in with your dentist. While a bit of tenderness around the socket is to be expected, significant pain after the first week can be a concern. 
Are There Aftercare Instructions I Should Follow?
Yes. When you visit our practice for a tooth extraction in Naperville, we'll provide you with aftercare instructions to follow. In general, you'll want to stick with the following guidelines:
First 24 Hours
Immediately after the tooth extraction, we'll give you gauze pads. Fold them up to create a thick surface. Put the pads on the extraction site and bite down on them firmly for about 15 to 30 minutes before checking to see if bleeding has slowed. Replace the gauze pads as needed and use them until bleeding is minimal or stops. 

If you were prescribed antibiotics, take them as instructed. 

For pain, you can take an over-the-counter or prescribed pain reliever as needed. 

Rest for the remainder of the day after your tooth extraction and limit physical activity for a full 24 hours. Prop your head up on pillows to minimize bleeding. 

Place a cold compress on your cheek in the area of the extraction site to help with pain and swelling. Use it for 10 minutes on and off throughout the first 24 hours. 

When eating, opt for liquids or very soft foods. 
After the First 24 Hours:
You can start to resume your regular activities, however, avoid excessive exertion for 72 hours. 

Continue with a soft foods diet for several days.

Continue taking any prescribed medication, including antibiotics, as instructed. 

Brush and floss your teeth

but be careful not to brush the extraction site. 

You can gently rinse your mouth with a salt water rinse (½ teaspoon of salt dissolved in 8 ounces of warm water). Don't swish or spit vigorously. If you were told to irrigate the sockets, you can do that to keep the area clean. 
What Can I Eat After a Tooth Extraction?
If you're experiencing pain after a tooth extraction, you probably won't be up for eating a big meal. But, keep in mind, good nutrition will help with the healing process. 
As for what to eat after a tooth extraction, during the first 24 hours, liquids or cold, creamy foods will be your best bet. Protein shakes, smoothies (avoid fruit with seeds), yogurt, ice cream and pudding are all good options.
Once you feel ready, you can move on to soft foods. Eat softer foods for about a week post-op. In addition to those suggested above, some of the best soft foods for after tooth extractions, include:
Scrambled eggs

Pasta

Mashed potatoes

Jell-O

Mac and cheese

Cook grains like quinoa or barley

Soft-cooked vegetables

Ripe fruit like bananas 

Fish

Soft-cooked meats, such as roasted or stewed chicken

Tofu

Soup or stew with small pieces of soft-cooked meat and veggies

Oatmeal, cream of wheat or other cooked cereal

Pancakes

Muffins (with no nuts or seeds)

Soft sandwich bread

Cottage cheese

Tuna, chicken or egg salad (without celery or any crunchy additions)
What Should I Avoid After the Procedure?
After a tooth extraction, avoid:
Spitting, sucking through a straw and vigorous rinsing for three days. The suction created by these actions can dislodge the clot, leading to a painful condition known as

dry socket

. 

Smoking cigarettes. This too can interfere with the clot and smoking slows down the healing process. A lot of patients ask, "When can I smoke after a tooth extraction?" We'd recommend waiting at least 24 hours, but if you can stop smoking for seven days, it will be helpful.

Hard, crunchy foods (i.e., chips, nuts, raw carrots, etc.) and food that can get stuck in the socket, such as seeds and popcorn, for a week

Very hot, very cold, acidic or spicy foods for the first several days, as well as carbonated beverages and alcohol

Vigorous activity for at least three days

Using over-the-counter mouthwash for seven days. Even when swishing with a saltwater rinse, rinse gently during this timeframe.
How Can I Make My Tooth Extraction Heal Faster?
While there isn't a magic way to make a tooth extraction heal faster, following your post-op instructions will help with your recovery and prevent complications. As with any type of oral surgery, rest, eating a soft foods diet, using an ice pack, maintaining good oral hygiene and avoiding using a straw, swishing or smoking will promote optimal healing.
Are There Any Post-Extraction Complications I Should Look Out For?
Infections after a tooth extraction are rare, but you should give our office a call if you experience any signs of infection, including:
Fever and chills

Severe pain

Redness and swelling in the extraction area

Lots of discharge

Nausea and vomiting
Another issue that can occur after an extraction, particularly after wisdom teeth removal, is dry socket. Dry socket, technically called alveolar osteitis, is when the blood clot at the extraction site fails to form or dislodges in the early stages of healing. When this happens, it can leave the nerve and bone exposed in the socket. 
Signs of dry socket include:
Severe pain or pain that worsens or changes in quality within a few days after a tooth extraction

An empty-looking socket that appears to have fully or partially lost the blood clot

Visible bone in the socket

Pain that travels from the socket to the ear, eye, temple and neck on the side of your face where the tooth was extracted

Bad breath

and/or an unpleasant taste in your mouth
Though dry socket is painful, it's easily treated. Contact us right away and we'll help you get relief. 
Expert Tooth Extractions in Naperville, IL
If you suspect you need to have a tooth extracted, schedule an appointment at Naperville Dental Specialists. With modern technology and a team of dentists and specialists, we can take care of all of your dental needs in one location, from the extraction to replacing your tooth.